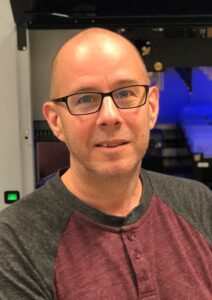 Nicolas Flamand studied at Laval University, where he obtained a Bachelor's degree in biochemistry and a Master's and PhD in microbiology and immunology. He then did a post-doctoral internship at the University of Michigan, in the Department of Internal Medicine. His academic and research career began in 2007 in the pneumology research axis of the Quebec Heart and Lung Research Centre. He has been a full professor in the Faculty of Medicine at Université Laval since 2018.
Professor Flamand is a recognized expert in the field of lipid mediators of inflammation. His research focuses on the cellular and molecular mechanisms governing the biosynthesis and metabolism of lipid mediators and their biological effects, particularly in humans. He is the author of some 60 publications in scientific journals and has contributed to the production of more than 225 research abstracts.
He is a member of the Quebec Heart and Lung Research Centre, the Quebec Respiratory Health Network, the Groupe de recherche en santé respiratoire (GESER) of Université Laval and the Arthritis Research Centre of Université Laval. He acts as an ad hoc reviewer for several granting agencies such as the Canadian Institutes of Health Research, the Natural Sciences and Engineering Research Council of Canada and The Austrian Science Fund as well as for several scientific journals related to inflammation and/or lipid mediators.
nicolas.flamand@criucpq.ulaval.ca
418 656-8711 ext. 3337
See Dr. Nicolas Flamand's publications
Volatiana Rakotoarivelo, postdoctoral fellow

Oumaima Azeggouar Wallen, PhD student

Jean-Philippe Lavoie, M.Sc. student
Chanté Muller, postdoctoral fellow
Jyoti Sihag, postdoctoral fellow
Mélissa Simard, postdoctoral fellow
Anne-Sophie Archambault, Ph.D. student
Élizabeth Dumais, M.Sc. student