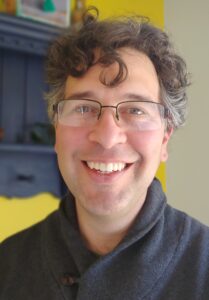 Cristoforo Silvestri received a Bachelor's degree in Genetics from York University in Toronto in 1998, and pursued graduate studies at the Institute of Medical Sciences of the University of Toronto where he received his PhD in 2009. From 2009 to 2014, he completed a postdoctoral fellowship with Dr. Vincenzo Di Marzo at the Institute of Biomolecular Chemistry of the National Research Council in Italy on endocannabinoids (and related compounds) and phytocannabinoids in obesity and associated metabolic disorders.
Since 2017, Dr. Silvestri has been an Assistant Professor in the Faculty of Medicine at Université Laval. Furthermore, he holds the Sentinel North partnership research chair on the gut microbiome-endocannabinoid system as an integrator of extreme environmental influences on bioenergetics.
Dr. Silvestri has extensive experience in collaborating with world-renowned pharmaceutical industries in the field of intestinal microbiota and endocannabinoids. He has also been involved in a number of collaborations with institutes associated with Université Laval (i.e. INAF and CERVO) on projects ranging from neuronal development and behaviour to the metabolic benefits of probiotics.
His laboratory is located at the Quebec Heart and Lung Institute and focuses on the molecular and cellular actions of the endocannabinoid system on metabolism.
cristoforo.silvestri@criucpq.ulaval.ca
418 656-8711 ext. 7229
See Dr. Cristoforo Silvestri's publications
Modernity has disrupted the exposure to natural thermal and photoperiod cycles (e.g. through the ubiquitous presence of indoor heating and lighting), to which humans have been evolutionarily adapted.  Northern populations, in particular, are exposed to large thermal and light energy fluctuations, which, together with recent changes in lifestyle, may in part explain their increasing susceptibility to metabolic and mental disorders. The chair will examine how extreme environmental conditions typical of life at northern latitudes affect brain and peripheral tissue mitochondrial function, and hence mental and metabolic health, through the intermediacy of the gut microbiome-endocannabinoid-mitochondria triangle (Figure 1), with the ultimate aim of developing new endocannabinoid/microbiome based therapies. The results obtained will contribute to the development of new therapies against metabolic and mental disorders.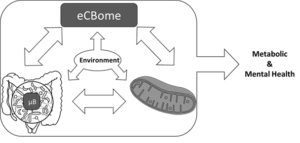 Figure 1: The endocannabinoidome–microbiome-mitochondrial triangle as a mechanism through which environmental factors (light and temperature) influence metabolic and mental health.
Besma Boubertakh, Ph.D. candidate
Pejman Abbasi Pashaki, Ph.D. candidate
Tina Khalilzadehsabet, M. Sc. student
Mehdi Zineddine Messaoudene, M. Sc. student
Hilal Kalkan, postdoctoral fellow
Giada Giorgini, Ph.D. student
Nayudu Nallabelli, Ph.D. student
Sara Braga Guebara, postdoctoral fellow
Rim Ben Necib, Ph.D. student
Marie-Noël Labbé-Blondeau, MSc student
Tommaso Venneri, Ph.D., visiting student