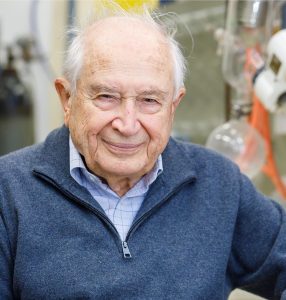 We are incredibly sad to learn about the passing of Raphael Mechoulam on March 9th.
Raphael (Raphi) Mechoulam, the father of cannabinoid and endocannabinoid research, was a beloved husband, father, grandfather, friend and collaborator. Raphi was a great man, not only for what he did in research, but for what he was like with students, collaborators and friends: always available, always a nice word. A true inspiration for hundreds of researchers in the endocannabinoid and endocannabinoidome field, and yet unreachable… He was a genius of the mind and a genius of the heart. For a glimpse inside Raphi's life, watch this very interesting documentary.
Vincenzo Di Marzo has had the chance of collaborating with this incredible man for decades. In his own funny words, Raphi recalls how they met.
The obituary can be found here.
Our sincere condolescences to the family.